My Kindergartner is Smarter than Me
My kindergartner is smarter than me. No doubt. Or at least at (almost) six she's already handling life transitions, major stress, and new experiences far better than me. I've spent the last two weeks watching her walk straight into kindergarten without even a glance backwards. She has handled it with so much strength and grace and honesty and celebration. It has me wondering what her secret is, and I'm kind of convinced it is in the celebration.
Hear me out. The first day of school Molly was nervous. Very nervous. She did not hesitate to let us know just how nervous she was. But when it came time to go, she marched right in and did exactly what she needed to. When I picked her up that day she came running out to me, grinning ear to ear, and proudly proclaimed "I talked to two people today and my teacher!" The next day she did the same except it was four people (however she had no clue what their names were). The third day she had talked to four more people and learned the names of the people from the day before! I mean considering this child was raised during the height of Covid while also battling Leukemia meant that for very formative years of her life she had basically zero interaction with people outside of our family. Molly is shy and rightfully so. And while we have no way of knowing what is her nature and what is nurture because of her lived experience, the reality is it is hard for her to be in social situations. And yet, here she was thrown into a very new, very loud, very different environment and she was celebrating every single milestone. I can't think about it without getting teary.
It wasn't just talking to people and learning names. She couldn't wait to tell me that she had not one but two cubbies AND she knew what went in each. Her classroom had a working piano and she even got to push a few keys on it AND she didn't even feel nervous when people looked at her. She sat next to someone she didn't know at lunch AND they talked about Disney World. At recess she played with two new girls, learned their names, AND one of them even told her if she told her what her name was that she could come to her birthday party (I love kindergartners so much). Here she was having these new experiences, challenging herself, thriving AND giving herself credit for it too!!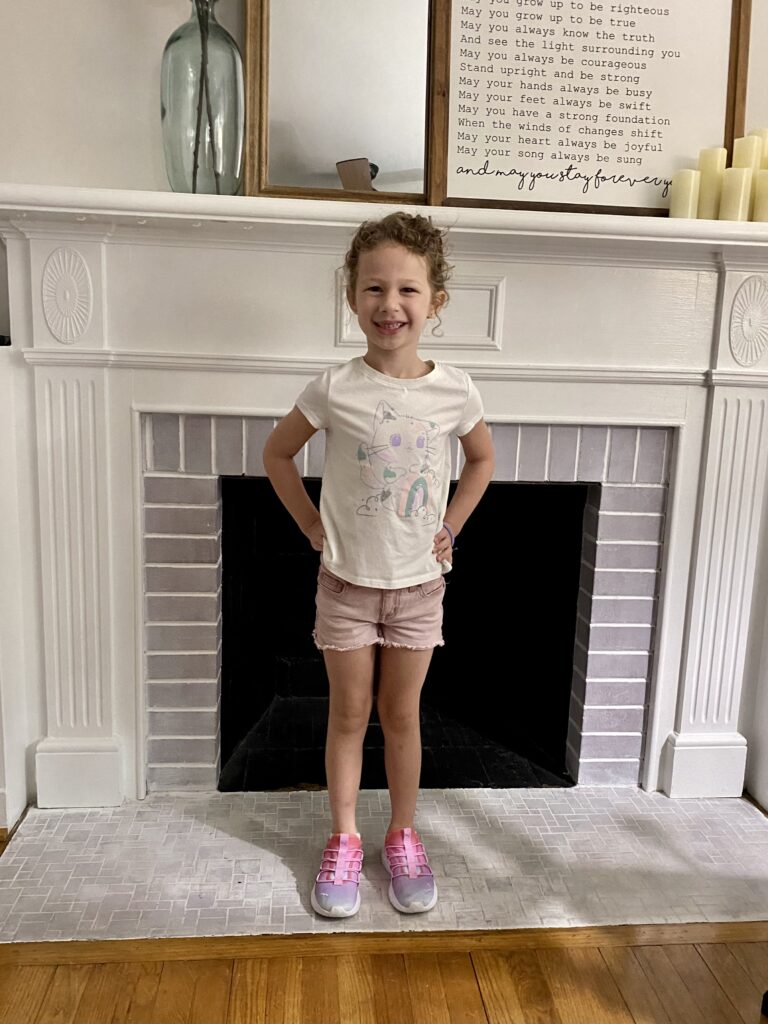 It got me thinking. When do we stop doing this? And what would happen if we didn't stop? What if we celebrated every single day no matter how monotonous our days may become? You called and made that dentist appointment. Celebrate it. You moved your body even when you were tired and didn't want to. Cheers to you. You sorted through your inbox and got your notifications under control. You freaking rock star! You spoke to your new neighbor. Gold star. You took a needed nap. Proud of you. You made it through your to do list?! That deserves a whole parade. It sounds ridiculous. But imagine it just for a second.
We are SO quick to downplay how much we do on any given day. It is far too easy to buy into the narrative that we aren't doing enough or being productive enough or whatever. And then, if something does go wrong or we forget something or aren't successful we immediately latch on to that. It's no surprise we can feel like such failures and succumb to such negative self talk when we're only keeping track of the shortcomings. My list of things I've dropped the ball on is long. Of course when I compare it to my list of celebrations, which is nonexistent, the flops win out everytime and the cycle continues.
If I were to celebrate all of my tiny victories, like Molly does, it would not only fill my day with so much more joy which in and of itself is reason enough. But it would give me that concrete evidence and feedback I need to prove to myself that my failures do not define me. They don't even make up most of me.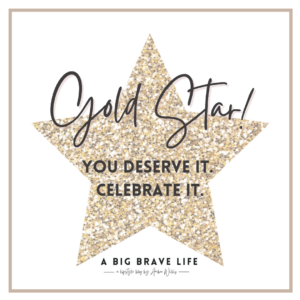 Today I want to challenge you to channel your inner Molly, your inner kindergartner. What can you celebrate today? Give yourself a giant gold star because I promise you deserve it.
Come join me on Instagram and share your Gold Star moment of the day!
With so much love and gratitude,
Am