Amazon Fashion Finds Round Up
Hey friends, if you follow me on Instagram you've seen me posting some of my favorite Amazon Fashion Finds. Most have been women's fashion because that seems to be what we're all loving right now! I'm going to do my best to round up all the links each week and include them in a blog post so you can always come back to them! I will still share to Instagram first, but with stories constantly expiring I think it'll be helpful to have them collected somewhere. The links included are affiliate links and I may earn a small commission off of purchases you make using these links.
Today's round up is all about transitioning into Fall. In St. Louis right now we are starting our days with temps in the 50's and ending our days with temps in the 80's! It makes it really hard to dress appropriately all day long without going through multiple outfits. So here's some of my recommendations.
Outfit 1:
Boyfriend denim with a simple tank or tee and a cute sweater layered over. When it gets warmer tie the sweater around your shoulders or waist, and when it really warms up just ditch it all together. Pair it with some cute sneakers or Birkenstocks and you're set.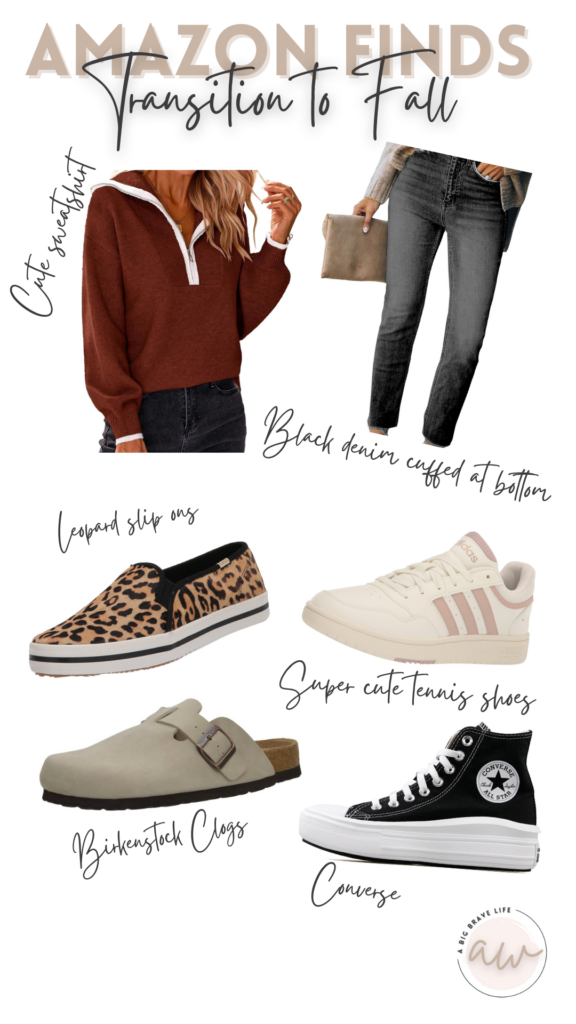 Boyfriend denim, cute ¼ zip up, leopard slip ons, Fall adidas, Birkenstock dupes, platform Converse
Outfit 2:
Short sleeve jumpsuit and cute shoes. Add accessories like a leather headband, claw clip, or hair scarf to get your hair up off your neck.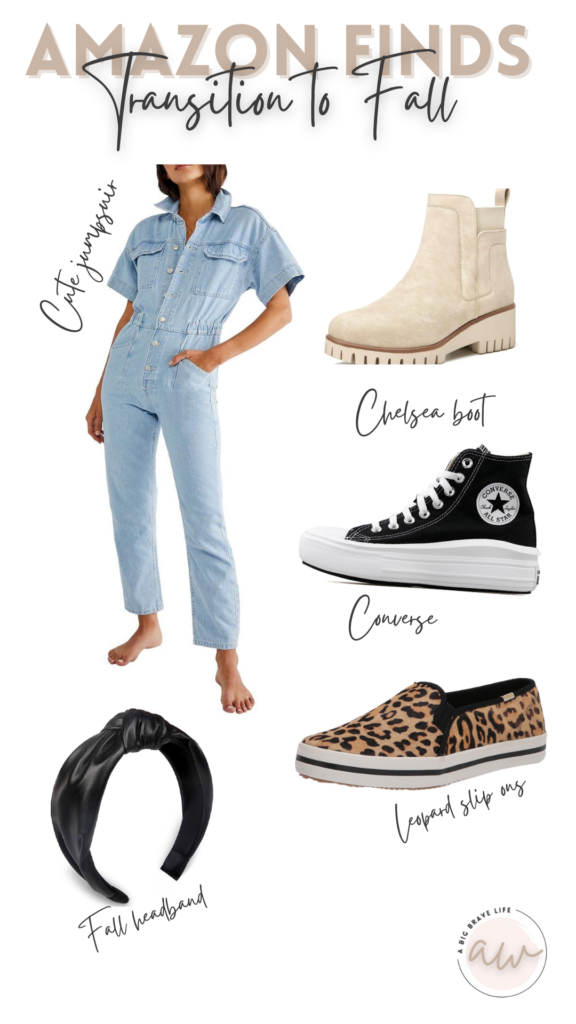 Jumpsuit, boots, platform Converse, leopard slip ons, leather headband
Outfit 3:
Denim shorts (I prefer a boyfriend fit) matched with a simple tank layered under a wide knit sweater. Channel Tan France and french tuck your sweater and rock it. Find some cute tennis shoes or frilly socks and birks. If you get warm, tie that sweater right around your wait.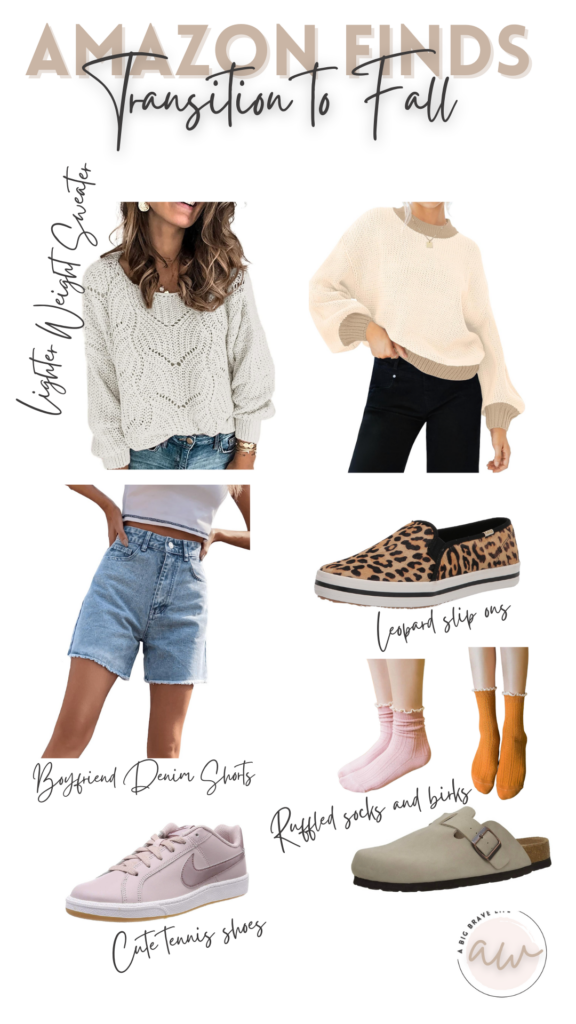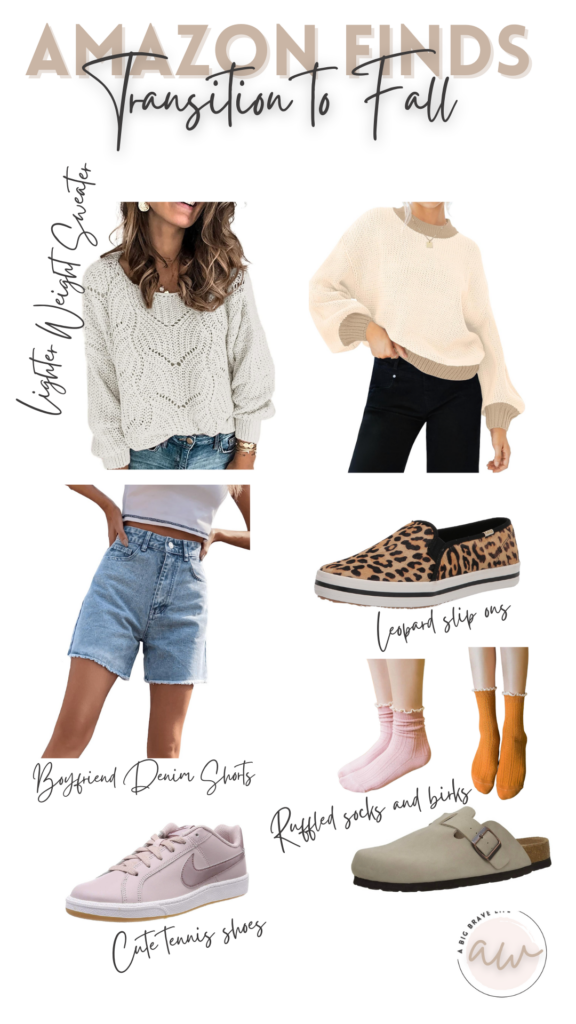 Light weight sweater, sweater #2, denim shorts, leopard slip ons, blush Nikes, frilly socks, Birkenstock dupes
Outfit 4:
I couldn't not post this MIZZOU look. It is definitely FALL Fall though with the shacket. However, a good tank/bodysuit and denim is always in. You may just have to save the shacket for actually cool temps.
I love the frayed hemline of these jeans. You can wear them with cute ankle boots and not have to worry about whether you cuff or don't cuff or whatever.
If you're wearing it to a game, grab some cute and comfy sneakers. Tailgating, try these platform Converse. For a night out, toss on these cute boots.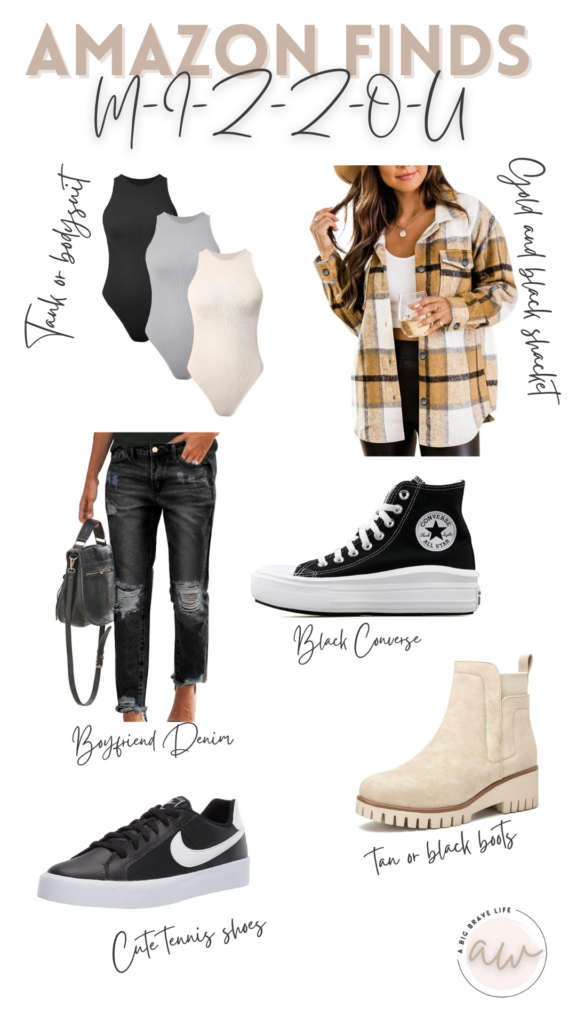 Bodysuits, shacket, boyfriend denim, platform Converse, black Nikes, boots
Outfit 5:
I love a good bomber jacket. These fitted joggers, with a cute tank, and edgy bomber jacket create such an easy, pulled together look. Anyone can rock this. When it warms up, ditch the jacket and you're still super cute and on trend.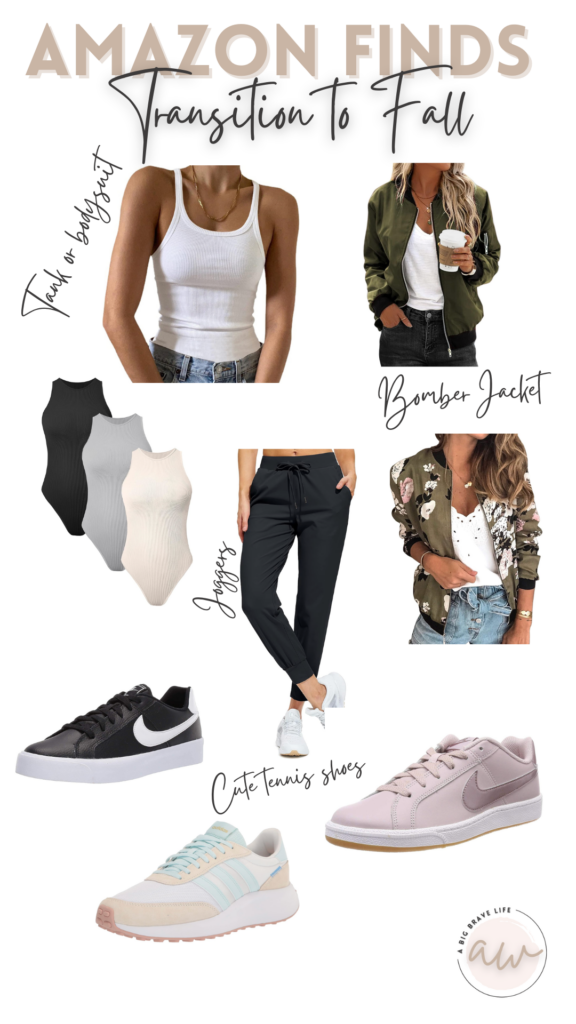 Tank, bodysuits, green bomber, floral bomber, joggers, black Nikes, blush Nikes, Adidas shoes
Outfit 5:
The comfiest look of the week: a good pair of bikers, a tank, and an oversized sweatshirt. Not everyone feels comfortable in biker shorts, and I get it. But pairing it with an oversized sweatshirt makes them much easier to wear. When you get warm, just wrap that sweatshirt around your waist. Add some tennis shoes or birkenstocks and again you're out the door.
Cropped tank/bralette, oversized sweatshirt, biker shorts, Birkenstock dupes, New balance shoes, Reebok shoes
I hope this helps! Let me know what else you're shopping for or what kinds of looks you want to see!
With so much love and gratitude,
Am