Fall Family Photo Ideas: Amazon Finds
It's the perfect time of year to update family photos but I know planning outfits for Fall family photos can feel overwhelming for many. I put together 5 different mood boards to help you pick your outfits and feel confident with how they'll photograph.
I typically aim for outfits that coordinate but don't necessarily match. I like to pull in a variety of colors and textures too. At the end of the day the most important thing to me is that everyone feels comfortable and not like they're putting on a costume just to make mom happy. The vibe of the photos should be a reflection of our family.
(Once again, all of the links for these outfits are affiliate links from Amazon so I may earn a small commission if you choose to purchase through my links. Thanks!)
Outfit 1:
I love this look so much and would absolutely put my family in these outfits! I'm all for a cute sweater tucked into a cute, flowy skirt. Add some leather booties and mom is set. I typically keep the men's outfits simple because that's what Dan prefers. You can't go wrong with a clean dress shirt and fitted denim. I love the girl's floral dress. I usually pick one outfit to build around and in this board this was the one. The mom's skirt ties into the burgundy, the dad's shirt pulls the light blue, and the sibling outfits help balance. It adds some pattern and visual interest without being loud. The ruffles on the pink dress are so sweet and feminine. I love the contrast of that with the corduroy. And the little boy's outfit is simple and comfortable. Cute but easy. This whole look feels effortlessly pulled together to me.
Women's Tan Sweater, Women's Skirt, Women's Boots, Men's Dress Shirt, Men's Denim, Girl's Floral Dress, Girl's Pink Dress, Boy's Henley, Boy's Pants
Outfit 2:
If you aren't a skirt girl or prefer a little more casual then this is the look for you. It is so perfectly Fall. I went with skinny jeans even though they apparently aren't on trend anymore- I like them with booties and a sweater and will continue to wear them. Pair them with a great Fall sweater. I love the mock turtleneck and color of this one. The sweater pulls from the plaid dress and coordinates with all the other colors going on. The men's look is once again simple but elevated with the sweater. I swoon over little boys in cardigans and love the two tones on this one. And the corduroy jumper is just so sweet. This whole vibe makes me want to head to the pumpkin patch.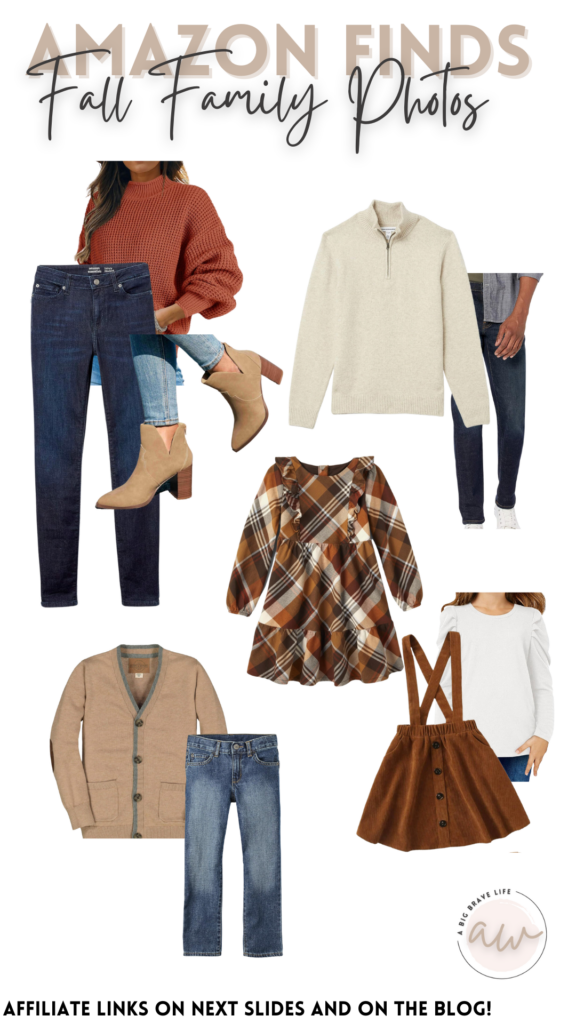 Women's Sweater, Women's Denim, Women's Boots, Men's Sweater, Men's Denim, Girl's Plaid Dress, Girl's Top, Girl's Jumper, Boy's Cardigan, Boy's Denim
Outfit 3:
If you like to get more dressed up for photos I tried to provide an option for that too. I love this womens floral dress. The neutral tones keep the pattern from feeling too busy. I love how flowy it is while still providing some shape. Because it is more dressed up I paired it with a charcoal men's suit. I wouldn't have Dan wear the vest. I would keep it simple with a fitted white button down under the suit jacket. With a black belt and shoes. The girl's tiered dress is adorable and I love the polka dot details on it. Is there anything cuter than a little boy in a bow tie? This one pulls from the mom's dress and adds a pop of color without being obnoxious. And the final outfit is the ruffle jumper. Add some little pigtail bows and cute shoes and everyone is set.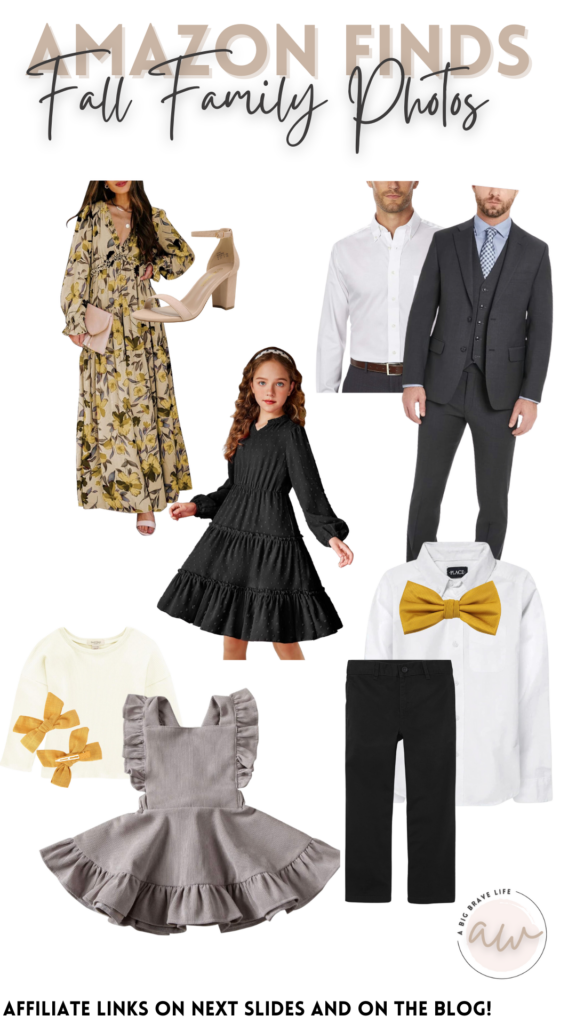 Women's Dress, Women's Heels, Men's Dress Shirt, Men's Suit Jacket, Men's
Suit Pants, Girl's Black Dress, Boy's Dress Shirt, Boy's Pants, Boy's Bow Tie, Girl's Top, Girl's Ruffle Jumper, Bows
Outfit 4:
This monochromatic look is unexpectedly one of my faves. Everyone in my family would wear each of these looks any time which makes them a great choice for pictures because we are comfortable and feeling like ourselves. I love the simplicity of the mom's outfit. A cream or white fitted top with a more unexpected neckline. The high waisted, wide leg pants are flattering on lots of different body types. Add a simple heel and some cute jewelry and you're pulled together. I love this men's sweater and have it in my cart to buy for Dan. I love that it has some texture to it. He can wear it with khakis and a dress boot. This little girl's dress is so freaking cute (and I would totally wear it in my size). The square neck and buttons are perfect. Add a ruffle sock and brown boot and she is good to go. Again, with the boy's cardigan but can't stop won't stop. I also love these dressier sneakers because he could wear them year round and for lots of different occasions. I love that everyone is coordinating with the green but there's color variation so it isn't boring. I think it would photograph beautifully and look great up on the wall.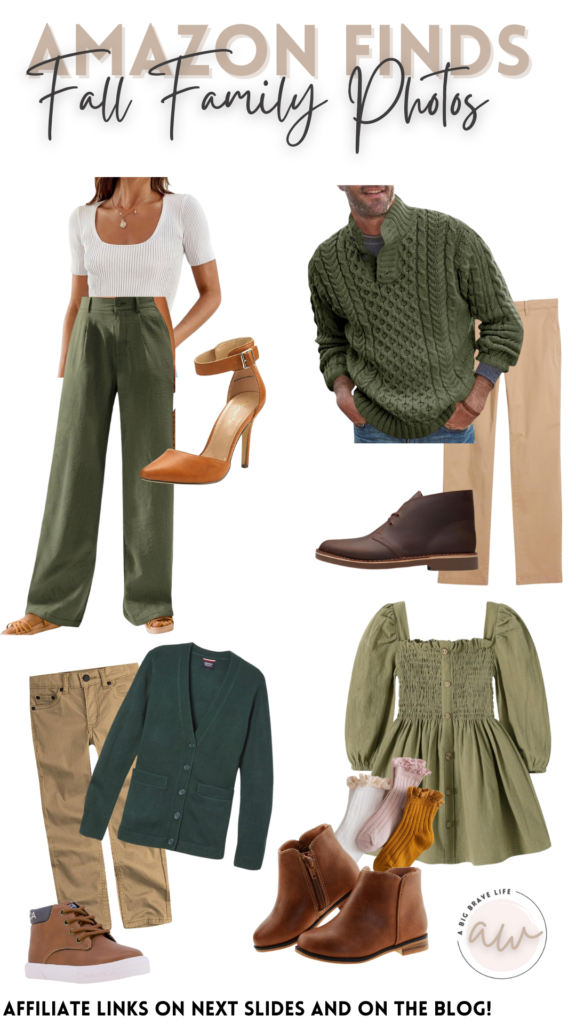 Women's Top, Women's Pants, Women's Heels, Men's Sweater, Men's Khakis, Men's Dress Boots, Boy's Cardigan, Boy's Khakis, Boy's Shoes, Girl's Dress, Girl's Ruffle Socks, Girl's Boots
Outfit 5:
I had a request for family outfits where the dad could wear a flannel but the mom could wear a dress. Dad's style was much more casual than mom's and they wanted to make it work. By putting kids in outfits that fall somewhere in the middle you achieve the balance. Nobody looks out of place. Colors coordinate. It is pulled together and purposeful but everyone gets to wear something that suits them. Mission accomplished.
Women's Dress, Women's Heels, Men's Flannel, Men's Denim, Men's Dress Boots, Girl's Top, Girl's Corduroy Skirt, Boy's Sweater, Boy's Denim, Little Girl's Dress, Little Girl's Sweater
I hope this is helpful! If you need help visualizing your family's outfits, reach out! I love creating mood boards to fit different families!
With so much love and gratitude
Am