One Item Four Ways: Amazon Finds
This week's Instagram featured a new Amazon Finds series that I am absolutely loving! It features one item worn four different ways. I don't know about you, but when I purchase a new piece for my wardrobe I love being able to visualize all the different ways I can wear it. Sometimes that means figuring out how it works with existing pieces I already own and sometimes that means building a new outfit. Hopefully these idea boards help you feel inspired to re-imagine some of your favorite pieces!
A reminder that all links included on this page are Amazon Affiliate links and I may earn a small commission if you choose to purchase through them. Thank you!
Item 1: Basic White Tee
If you don't already own a great basic, white tee then now is the time to grab one. I fall back on my white, heather gray, and black tees regularly because they are so easy to wear with anything and everything. Here are four ways I'm wearing my basic tee.
Basic White Tee, Boyfriend Denim, Green Sneakers, Faux Leather Leggings, Flannel, Black Sneakers, Black Boots, Blazer, Black Denim, Tan Boots, Black Boots, Overalls, Converse
Wear your basic tee tucked into boyfriend denim with cute sneakers. Wear it with faux leather leggings and wrap a flannel around your waist. Pair it with cute sneakers or boots and you're set. I also love wearing my basic tees under a blazer. With black denim and booties the look is pulled together and effortless. Finally, I'm a sucker for a good pair of overalls and there's nothing better than a basic tee underneath. Toss on some Converse and you're totally on trend, comfy, and cute.
Item 2: Chunky Knit Sweater
Fall is officially here and it is sweater season. Time to cozy up! Let's talk about how you can wear your favorite chunky knit sweaters without feeling super bulky.
Chunky Knit Sweater, Boyfriend Denim, Sneakers, Faux Leather Leggings, Mustard Flats, Ugg Boots, Scarf, Black Denim, Tan Booties, Tiered Dress, Belt, Knee High Boots
One of the easiest ways to wear your chunky knit sweater is to toss is on with your comfiest denim and cute sneakers. Perfect for running errands, a day at the pumpkin patch, etc. Depending on the thickness and also the cut of the sweater you may want to french tuck it, but it'll depend on your sweater, your jeans, your body type, and your preferences/comfort. You can also pull on your favorite sweater with a pair of faux leather leggings. These are much easier to wear than you'd expect. And the texture of the sweater with the finish of the leggings makes for an interesting and super cute look. Dress it up with flats or dress it down with Uggs. Either way, you look adorable. My go to most Falls is a sweater, black denim, tan booties, and a scarf. It is Fall in outfit form. Finally, I love a good chunky knit sweater over a dress! Fasten a belt at your waist and tuck the hem of your sweater into it. Pull on some Fall boots and you are ready for a day at the wineries, an outdoor Fall reception, shower, etc.
Item 3: Faux Leather Leggings
It took me a while to come around to this trend, but I've got to admit they're much comfier and much more flattering than I anticipated. There's so many fun ways to wear them too!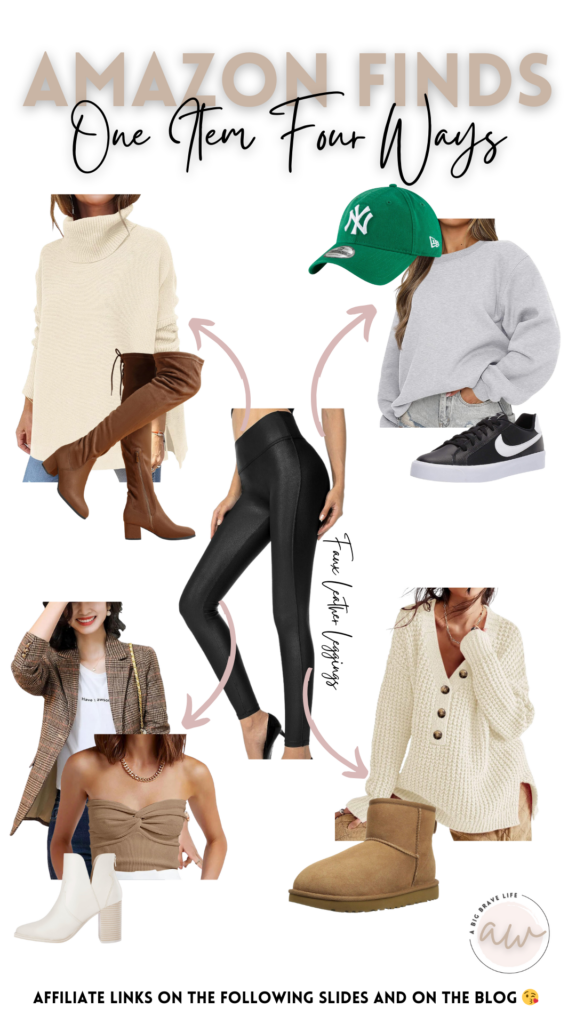 Faux Leather Leggings, Tunic Sweater, Knee High Boots, Sweatshirt, Ball Cap, Black Sneakers, Tube Top, Blazer, Cream Booties, Oversized Knit Top, Ugg Boots
The easiest way to wear faux leather leggings, in my opinion, is with a tunic and a cute pair of boots. But I also think it is super fun to dress them down. Put them on with your favorite sweatshirt or hoodie and a cute ball cap, put on a cozy sweater and uggs…either way the leggings are slightly unexpected and more elevated than athleisure. So you can pull off super comfy while also looking intentional and pulled together. Finally, channel your own inner Sandy and try them with a fitted top. Toss on a blazer and heeled boots and you're ready for a night out!
Item 4: Cute Fall Dress
Most of my life I assumed dresses were only for dressing up. But I'm loving this trend of super feminine dresses and skirts with sneakers. Anytime I get to be cute and comfortable is a win. Here are a few unexpected ways I'm wearing my dresses.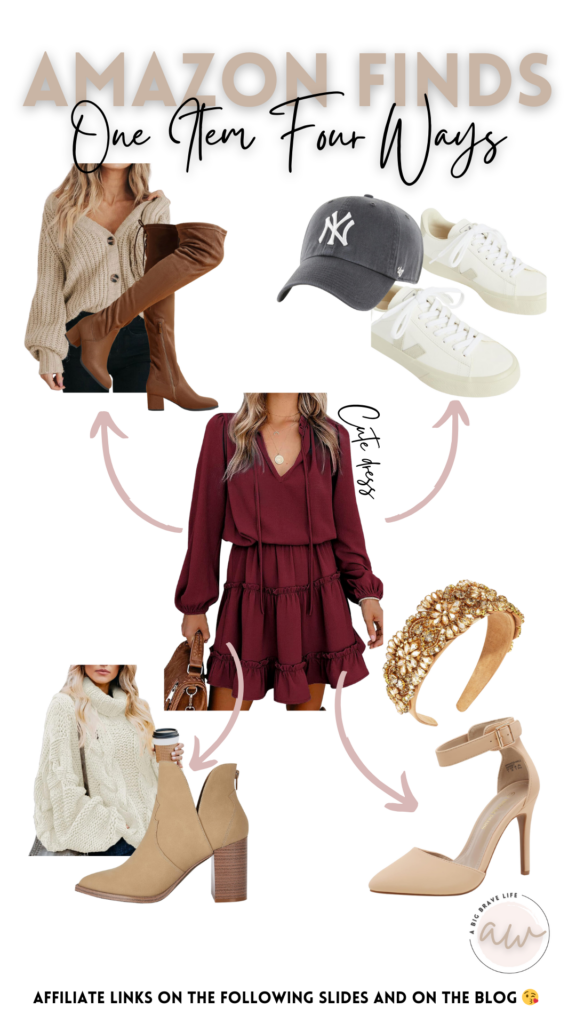 Fall Dress, Tan Cardigan, Knee High Boots, Sneakers, Ball Cap, Knit Sweater, Tan Booties, Embellished Headband, Nude Heels
Try your dress with tall boots and a cozy cardigan. It would be super cute for a weekend day date. Toss on your dress with sneakers and a ball cap. If you don't believe me, just go search Pinterest. I promise it is a thing and I think it is super cute. Pull on a cute and cozy sweater over your dress and wear it as if it were a skirt. A neutral pair of booties pulls this look together. Or dress your dress up with a pair of heels and embellished headband. Perfect for a Fall wedding.
Item 5: Coatigan
I vaguely remember seeing this trend last Fall, but I forgot about it until a friend suggested I style this one. And now I definitely need one! There are so many possibilities for dressing up or down and outfit with this coat coatigan (Coat/Cardigan)!
Coatigan, Gray Tee, Skinny Denim, Leopard Flats, Black Boots, Leggings Set, Hoodie, Black Sneakers, Black Tunic, Faux Leather Leggings, Tan and Black Heels, White Button Up, Denim, Black Loafer Slides
Grab a basic tee and your favorite pair of jeans, toss on your new coatigan, and slip on some fun flats or boots. You are effortless perfection. Running errands or out and about and want to stay cozy, warm, and comfy? Grab a staple hoodie, leggings, and cute sneakers. Your coatigan finishes off this outfit and despite feeling like you're in pjs you look super fashionable. Elevate your look with a long black tunic sweater, faux leather leggings, and an unexpected shoe. You're ready for the office or drinks or anything really. Finally, a cute button up, skinny jeans. a pair of loafers, and a coatigan is so classic. You will absolutely turn heads in this outfit
Ok, what do we think of this series?! Do you love it as much as I do?! I hope it is helpful. If there's anything else you want to see styled let me know!
With so much love and gratitude,
Am