Amazon Finds: Women's Sweaters
Last weekend in St. Louis felt like the official start of "sweater weather!" It is my most favorite season for fashion. A sweater with leggings is my go-to for school drop off and pick up. A sweater with a pair of denim and ankle booties is my easy breezy weekend look. An over-sized, loose knit cardigan instantly adds cozy vibes. It all just makes me so happy! I have been not-so-patiently waiting for the weather to turn so I could share this week's Amazon Finds! I'm sharing my top 10 favorite women's sweaters from Amazon, and I am absolutely giddy over it! All of these Amazon women's sweaters are going to be my go to's this Fall and Winter.
Reminder that all links shared here are affiliate links and I may earn a small commission if you choose to purchase through these links.
Sweater 1
I first shared this sweater as part of a Fall outfit a few weeks back and you guys instantly loved it as much as I did. The flutter detail on the shoulder is so feminine. It takes a basic sweater and instantly elevates it. It is such a versatile sweater. Wear it with a skirt, over a dress, or with jeans.
Sweater 2
I adore this sweater. It comes in so many colors and my favorite option changes every time I look at them. This green is so fun though, especially with a pair of boyfriend denim and sneakers.
Sweater 3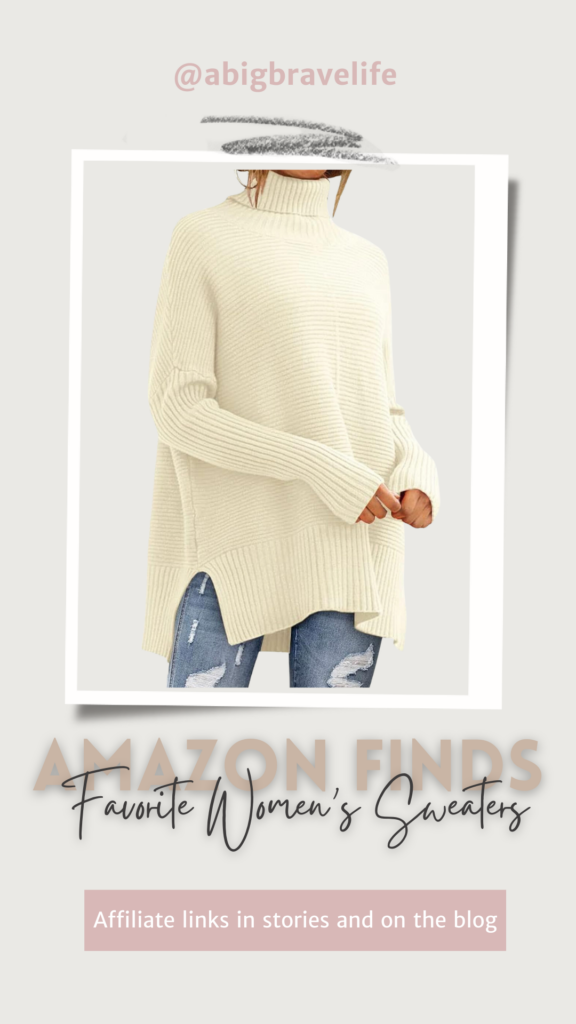 I love a good turtleneck! This one can be dressed down with leggings and Uggs or dressed up with nice denim and heels. It could also be super cute under a leather jacket. Either way, I can almost promise it will be one you're reaching for often!
Sweater 4
I had to include an oversized, chunky, knit sweater. It immediately makes me want to curl up with a warm drink. Another one you can wear with leggings, denim, or even with a skirt.
Sweater 5
I can guarantee you this will be one of my most worn pieces this Fall and Winter. It has more of a casual vibe and I am here for it. I plan to live in it, leggings, and cute boots until Spring.
Sweater 6
I've shared this half zip before and it has gotten a lot of love. It comes in multiple colors and is just such a timeless and effortless look.
Sweater 7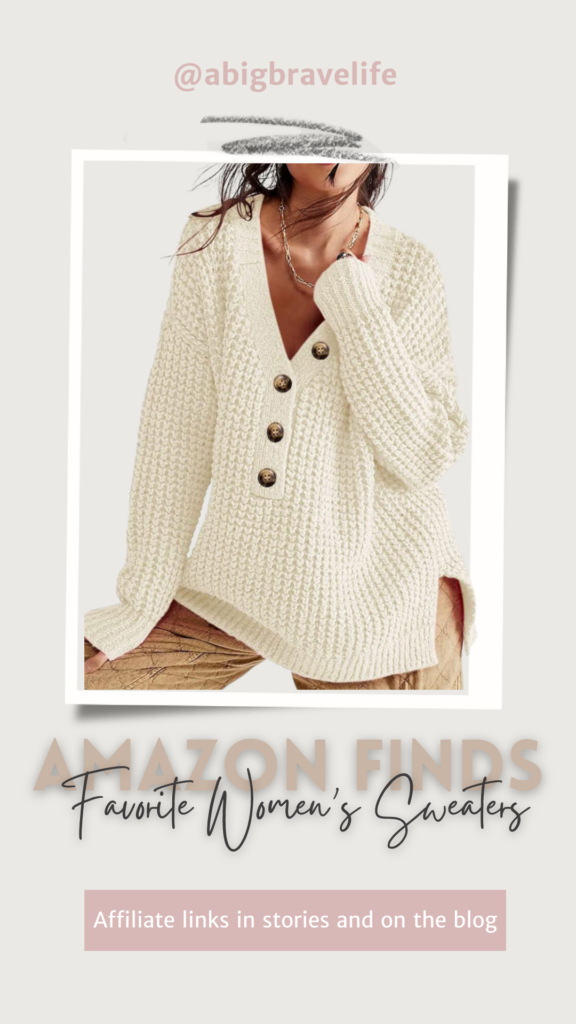 I am obsessed with this top. The oversized fit, the texture, the bulky buttons…yes please. Another one I'll be pairing with leggings on repeat.
Sweater 8
This sweater is so sweet. I love the window pane design. The neck is loose fitting so you don't feel suffocated. It is perfect for leggings or skinny jeans.
Sweater 9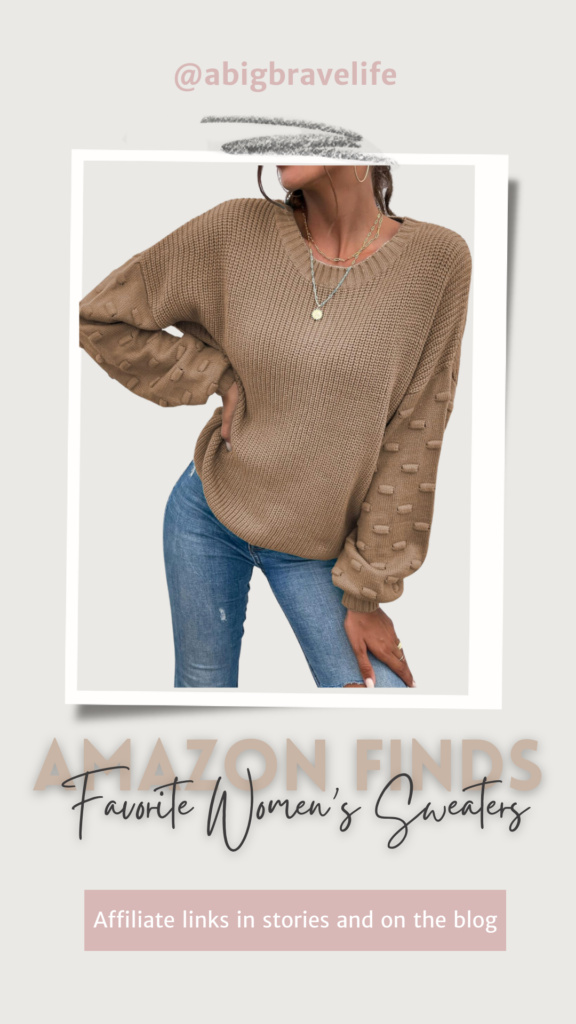 I love a good sleeve detail. The puffier sleeves paired with the added texture makes this sweater stand out. I would wear it with denim. A wider leg, baggier, boyfriend fit and tennis shoes. Or a skinny jean with show stopping boots.
Sweater 10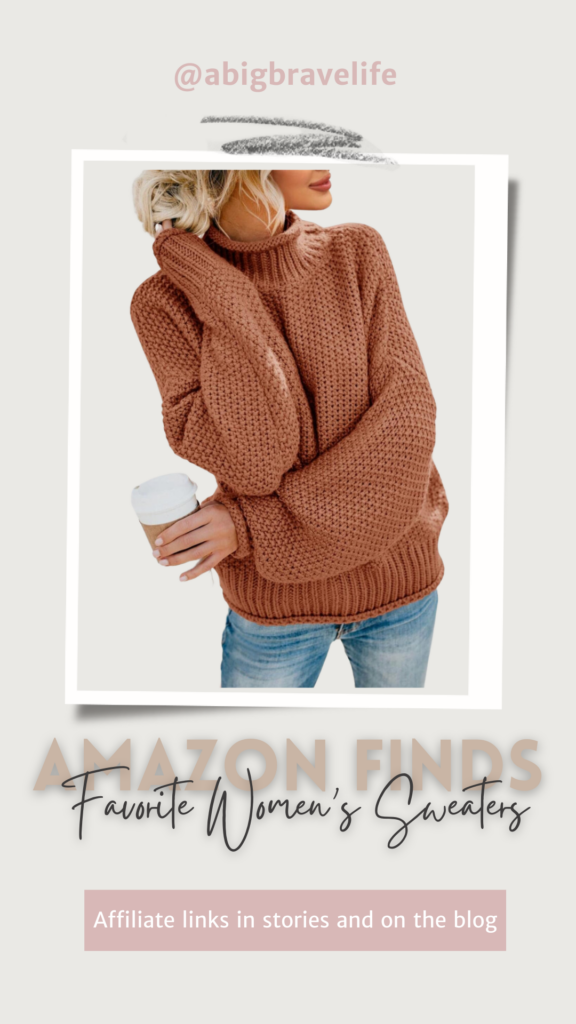 This is by far the most popular item I have ever shared. We all love this sweater! It feels so perfectly Fall. The knit, the fit, the colors, the details…it is just so good. You're gonna want to go ahead and add to cart.
Reminder that every weekday I share Amazon Finds to my Instagram stories and then round them up on Friday. If you want to see them first or catch them before they sell out make sure to follow me there!
Happy Fall, Friends!
With so much love and gratitude,
Am