Content Spotlight: Editing and Proofreading
Part of being a brand new, baby freelancer is building a portfolio that showcases the range of work you do and services you provide. For a field like content writing that encompasses so many different types of projects it has been important for me to utilize and show the depth of my experience and skills. I was presented with an opportunity to help a client with editing and proofreading their website copy so that it best reflected them and their business. I immediately knew it was going to be a pivotal piece in highlighting what I can provide.
Kaitlin Slowik is a Freelance Editor specializing in Indie Romance. She was making some shifts within her business life and wanted her website copy to reflect her new venture while also sounding like her. Kaitlin is no stranger to good writing. Not only is she a skilled writer herself, but she reads books and manuscripts for a living! The girl knows good writing. She also knows the power of editing.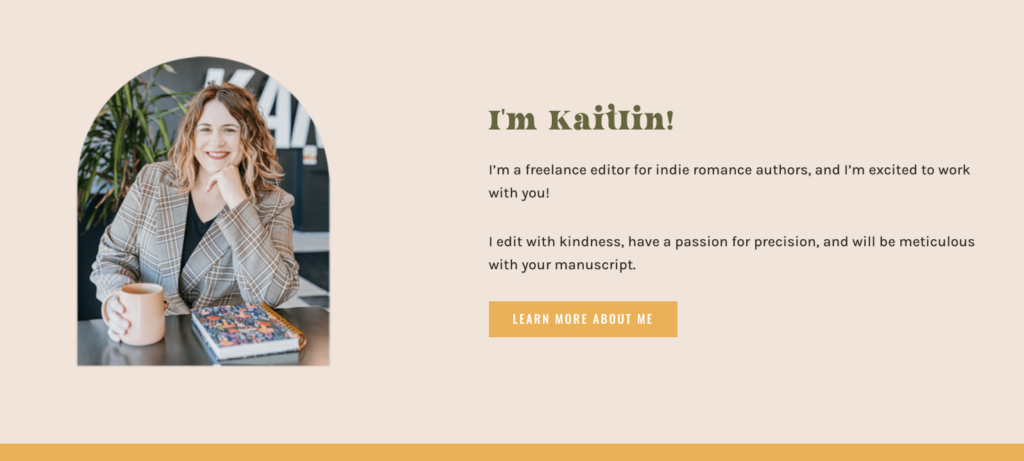 I respect a lot of things about Kaitlin, but one of the biggest things through this whole process was her willingness and ability to ask for help. Kaitlin could have published her writing on her own without an extra set of eyes. However, as an editor herself Kaitlin is keenly aware of how effective and beneficial it can be to run your ideas by someone else. She knew in her gut that her copy wasn't where she wanted it to be. It felt off. She reached out and we were able to work together to craft copy that did exactly what she wanted it to! Sometimes you just need that extra set of eyes and fresh ideas to make it work.
Working in a google doc I was able to see Kaitlin's brainstorming and rough drafts. Kaitlin left me a few notes with specific questions she had, areas she was struggling, wording she was tossing around, and concerns she had. I went through and left lots of comments about: sentences I loved, small changes I would make, ways I would adjust wording, ideas I had to add or expand, etc. It was a very collaborative process. I did not go in and just take her copy and rewrite it all for her. I suppose I could've. But her ideas were solid and she was on the right track. She just needed me to pull out a little bit extra. It felt like a virtual brainstorming session. And at the end of the day Kaitlin was able to finalize her copy in a way that she could be proud of. I am just so happy to play a small part in helping her dreams become a reality.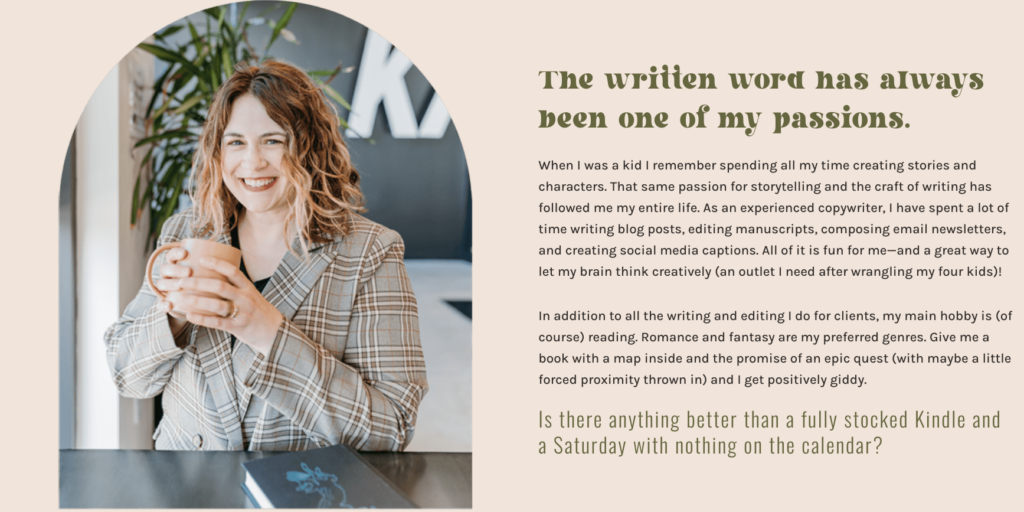 This is what Kaitlin had to say about working with me:
If you need help editing or proofreading your copy, or if you just need a good old fashioned brainstorming session, let's set up a discovery call and chat! I would seriously love to help you!
And if you're in the market for a fiction editor- check out my friend Kaitlin. She is a freaking rockstar.
With so much love and gratitude,
Am