Amazon Finds: Women's Jumpsuits:
You guys loved the wedding guest dress round up a few weeks ago so I wanted to make sure to get to the women's jumpsuits round up I promised! We are getting so close to the holiday party season. A jumpsuit is such an easy way to make a statement. One piece can accomplish so much in making you look and feel fashion forward, put together, and absolutely adorable. Most of the jumpsuits I included are black. Based on feedback from all of you, that's our safe zone. Know each of these pieces comes in many different colors if you're hoping to feel even more festive. Just make sure to snag your favorites now before they go out of stock!
**Reminder all Amazon links below are affiliate links and I may earn a small commission if you choose to shop through my links. Thanks for your support!**
Jumpsuit One:
This jumpsuit could so easily be casual or dressy depending on your accessories and shoes. I love the wrapped top, cinched waist, and wide leg pleated pant. Nothing better than looking super cute and also being so comfy.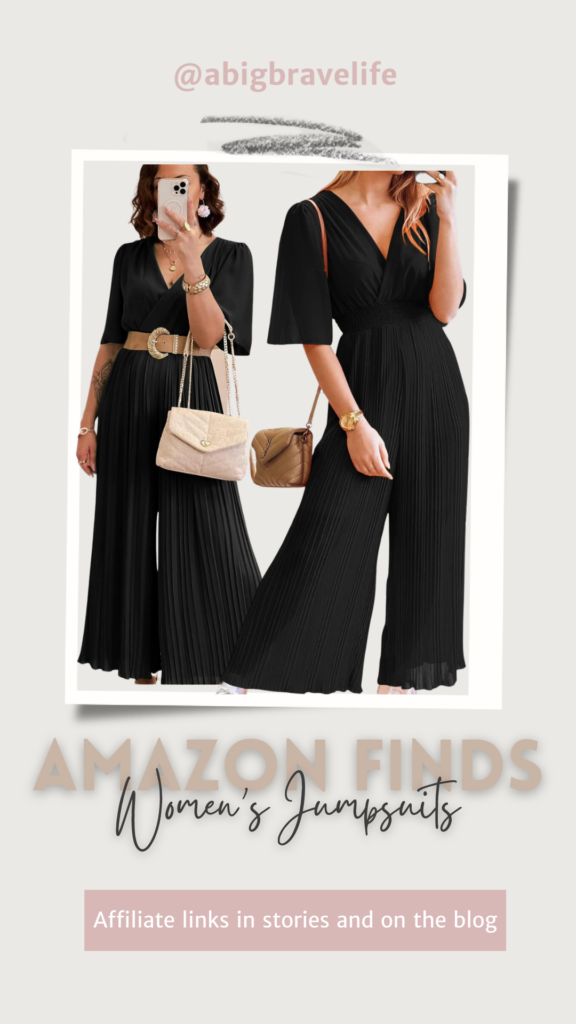 Jumpsuit Two:
This jumpsuit is arguably the "safest" on the list if you're not a huge jumpsuit wearer. The wrap style top is super flattering, the tied waist adds a feminine flair, and the straight leg makes it easy to wear with almost any shoe.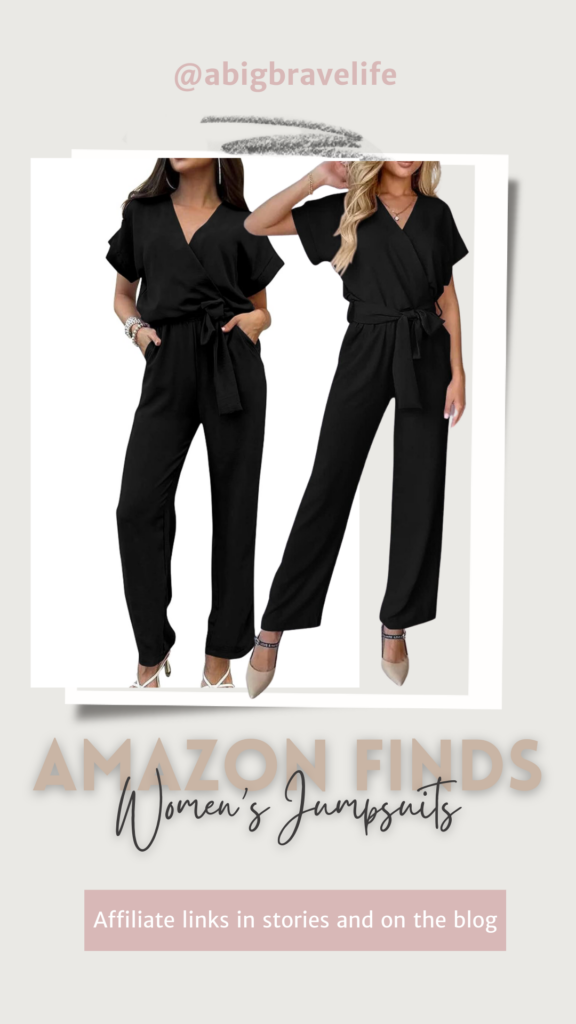 Jumpsuit Three:
I love this jumpsuit so much. It would be so perfect with a great statement coat/jacket in the colder months. It looks much more expensive than its price tag.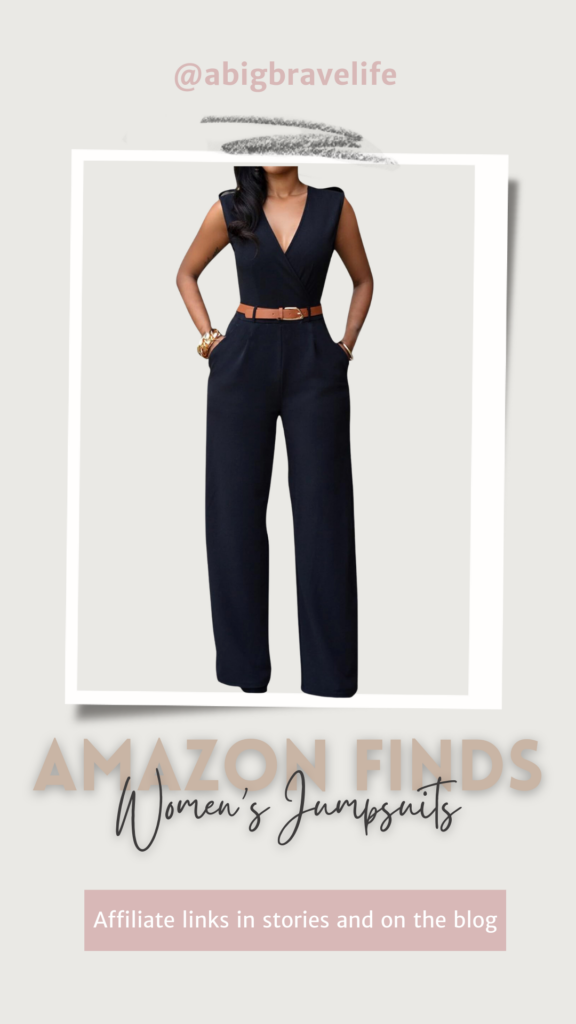 Jumpsuit Four:
This jumpsuit has the potential to be super flattering if it fits you well. The one shoulder top elevates it above your typical jumpsuit and the wide leg pants give you some flexibility on sizing. You'll need a cute sweater or jacket to wear it into colder months but it could absolutely still be a contender for a holiday gathering.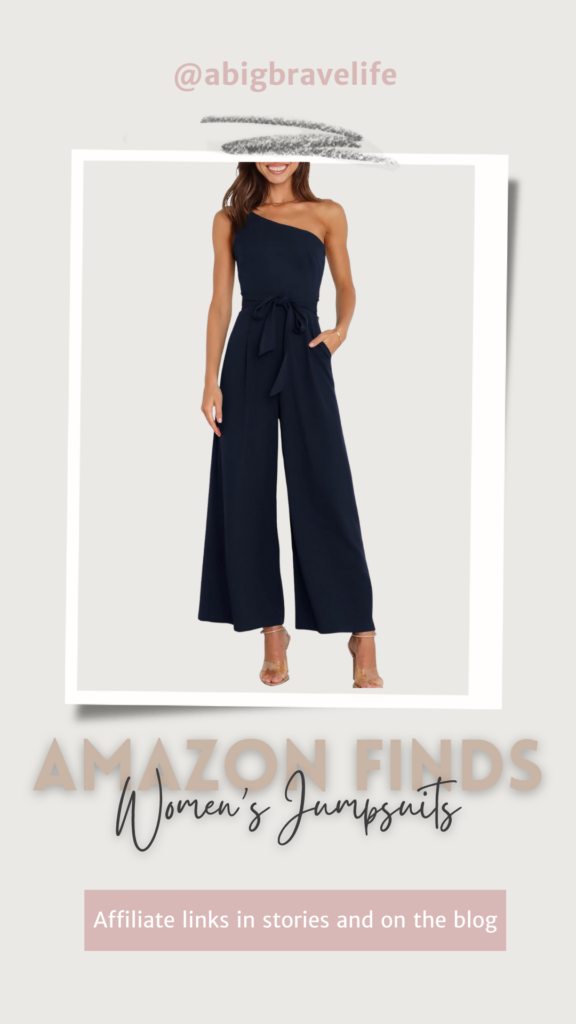 Jumpsuit Five:
Some reviews on this jumpsuit caution that it runs short so it won't be one I am personally trying. But I love the flutter sleeve detail.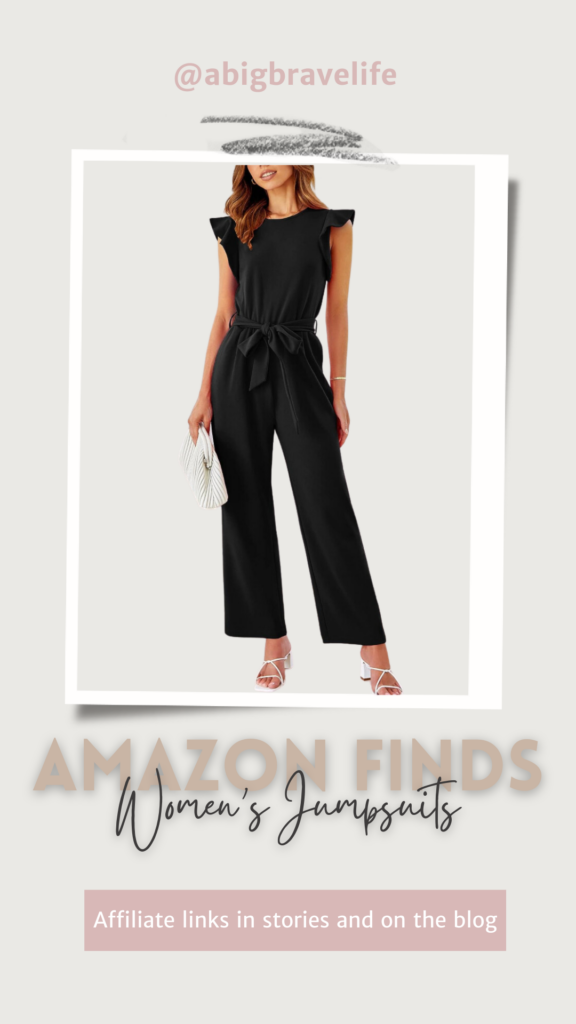 Jumpsuit Six:
Another one that combines fashion with comfort. I love the longer sleeve and the jogger style pant. It looks and feels super fashion forward. All while feeling like pajamas. Winner winner.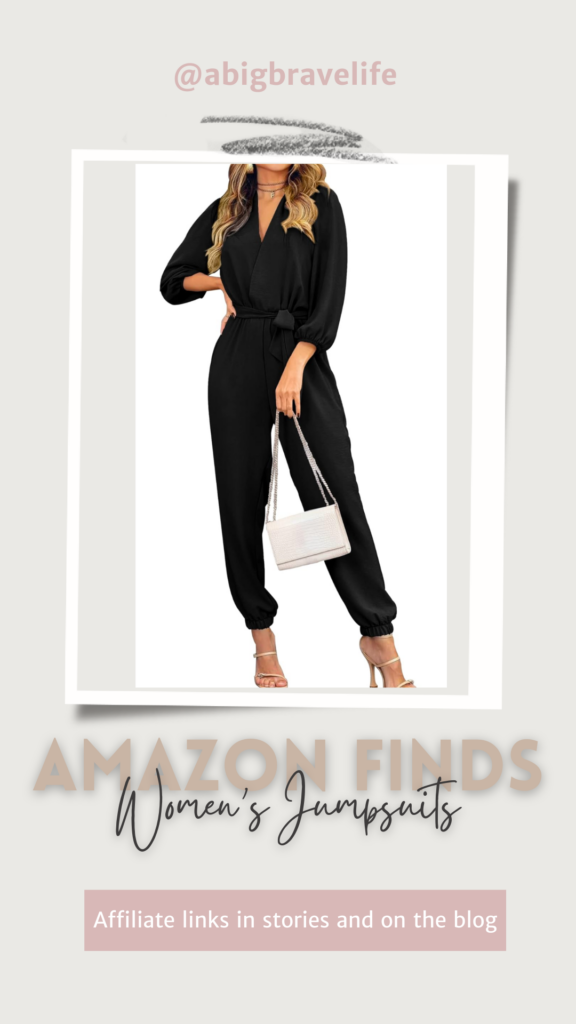 Jumpsuit Seven:
I wouldn't love this one as much if it wasn't for the keyhole back. You could also consider taking the tie off and instead using a fun belt. Lots of potential with this one.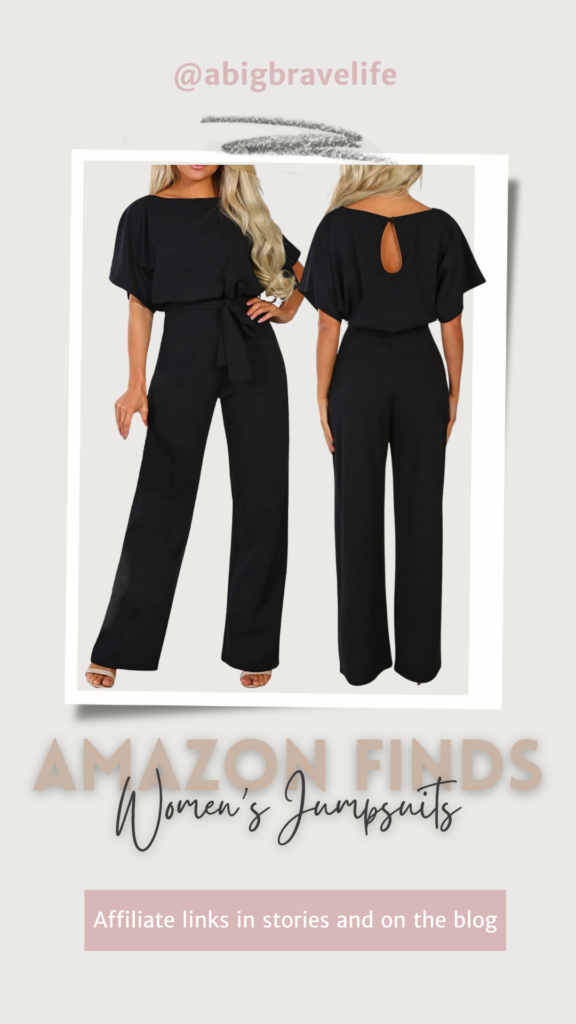 Jumpsuit Eight:
This one is for your dressier parties because the cape sleeve for sure makes a statement. But this one would be so fun to dress up!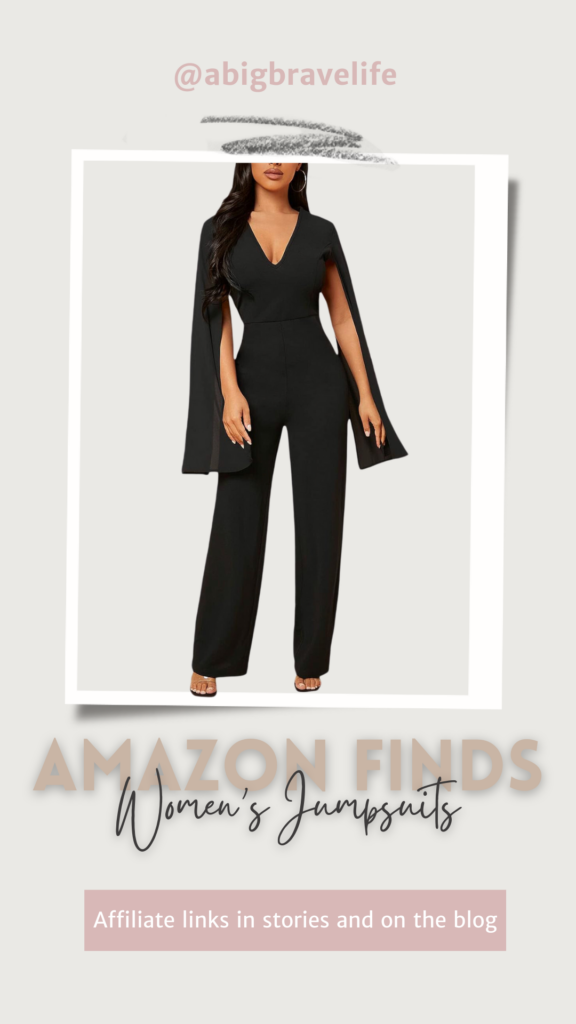 Jumpsuit Nine:
The only one on the image that isn't black or dark navy, but I loved this color even more than the black one on the page. I love the collar paired with the buttons and the suit feel. It just feels unexpected but also traditional somehow. Loving it.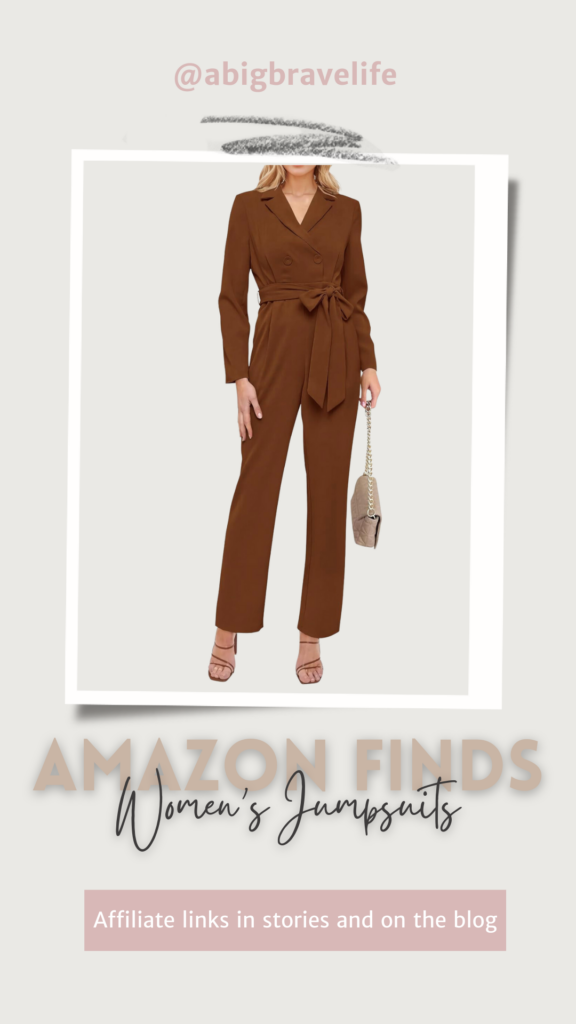 Jumpsuit Ten:
I saved my favorite for last. While satiny materials make me nervous because I inevitably spill or a child gunks it up, I think this jumpsuit is so beautiful. This is the jumpsuit version of a dress I shared a few weeks ago and I can't decide which I love more. I may have to convince Dan to take me to a holiday party just so I can order this jumpsuit.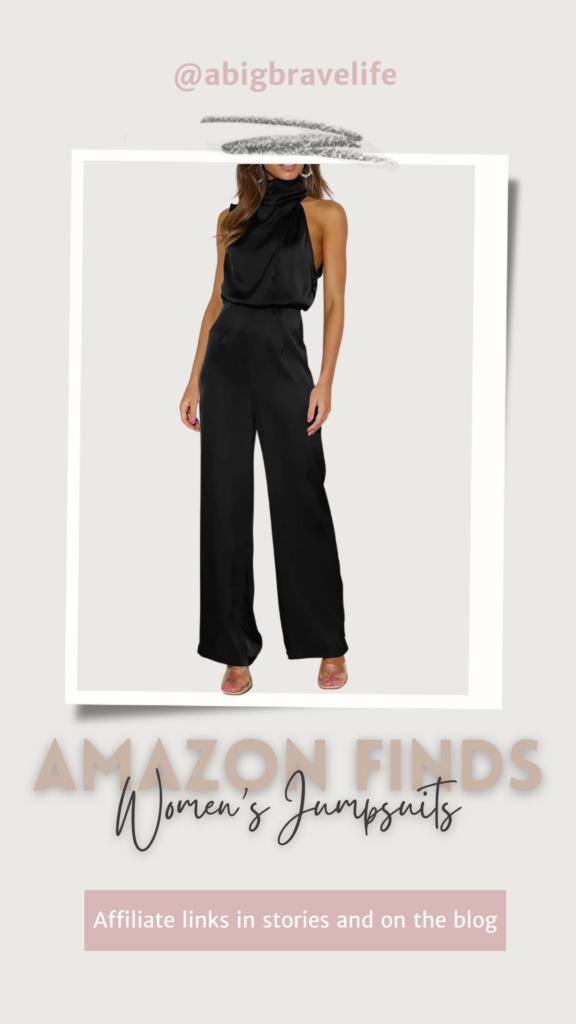 Alright friends, what do you think? Are you loving the idea of a jumpsuit this Fall and Winter? You know I am. If you're feeling too nervous to wear one or like you can't pull it off, shoot me a message and I will put all those nerves to rest. You can absolutely rock a jumpsuit if you want to!! If you do order one to try make sure to tag me in your pictures! I want to see!
With so much love and gratitude,
Am