Meet Anxiety With Confidence
Trauma is weird. I feel like the last week or two I have been tiptoeing the line hard of allowing the healing from my trauma to move me and letting the trauma paralyze me with fear. The tug and pull of that middle space is intense. And exhausting. The constant pinballing back and forth between being grounded in confidence and riddled with anxiety makes me feel like the 😵‍💫 emoji.
Recently I made a decision that has the potential to hugely impact my business, my work life, my income, my family, etc. I have been doing my own internal work over the last few years to really reconnect with myself, to give witness to my own worth, to make space for my own ideas and creativity and drive, and to prioritize myself. All of that has resulted in the creation of this blog and my freelance business. It is the embodiment of my biggest, bravest life.
And yet, the seconds after I committed to these next steps I froze. I immediately had thoughts of "Why did I just invest X when Molly could get sick again?" "What if Molly gets sick again and I can't keep my commitment or see this through?" "What if now isn't the best time because we are all still healing from the last few years?" On repeat. I went from buzzing with excitement to paralyzed with doubt in an instant.
I know those thoughts are my anxious part just trying to keep reality in check and trying to protect me from risk. It's the part of me that wants to keep me safe and small so that my little bubble doesn't pop. Rationally, I know that. But when those feelings are pumping through your body it is really easy to get stuck in the fear.
I was reminded recently that my anxious part is in fact only a part. There's also a part of me that is overflowing with confidence in myself and my business who is excited about where I'm going.
My anxious part has no data. It makes me worry about things I have no grounds to back up. We have no reason to believe Molly is sick or that her cancer will ever come back. I have no reason to believe I can't be successful with my latest project. But if I pass the mic to my anxious part it really doesn't matter. All reason and logic go out the window.
My confident part has a lot of data though. It can outline for me exactly what I have overcome. It can point to my strengths and my growth. It never shames me when I do fall short but reminds me these are opportunities for improvement.
I was listening to a podcast episode by Jenna Kutcher yesterday and she talked to her guest about creating a "Badass List." A list of all the reasons you are in fact a total badass. They were talking about using this list to combat all the times you start to doubt and second guess yourself. If you saw this list of accomplishments for anyone else you wouldn't question their ability to show up, run their business, provide value, etc. But we are so quick to downplay ourselves. Having a list of concrete evidence is so often enough to create some space from our anxious parts and recenter us in our goals.
Before writing this post I sat down and made my own list. Anything and everything that I felt like could be good data to my own brain about how stellar I actually am. Some big things like living through my worst nightmare as my daughter battled leukemia, or having my hip reconstructed and going through that healing process, or building my own business from the ground up. Other things are much more everyday and arguably just as important, if not more. The way I've supported friends through different trials, the fact I'm raising two incredibly kind kids. And others are seemingly menial but significant to me: sharing my story, connecting with other female entrepreneurs, making time to read to my kids every night.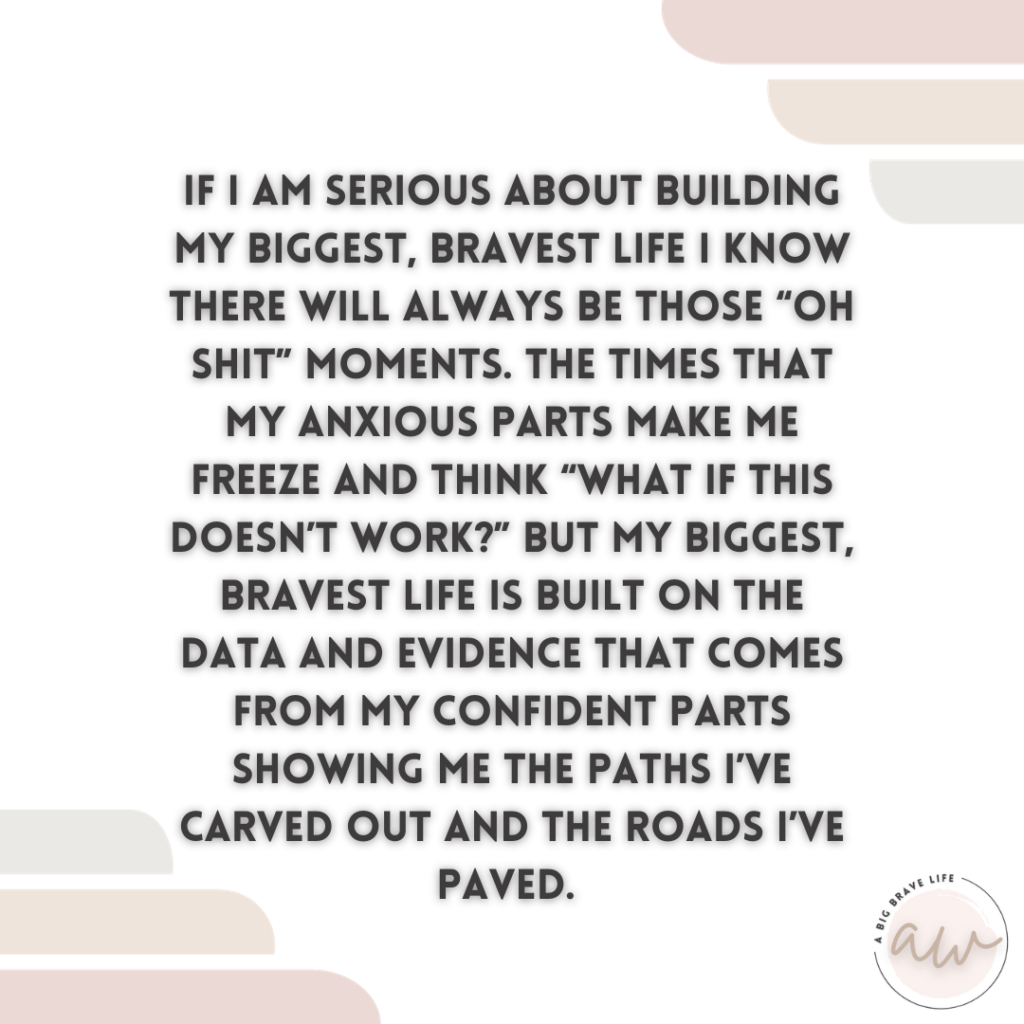 If I am serious about building my biggest, bravest life I know there will always be those "oh shit" moments. The times that my anxious parts make me freeze and think "what if this doesn't work?" But my biggest, bravest life is built on the data and evidence that comes from my confident parts showing me the paths I've carved out and the roads I've paved. My ability to hear my anxious part ask the question "what if it doesn't work?" and then respond with my confident voice that all evidence shows there's no reason why it can't work.
If your confident voice is a little too quiet right now, I would love to plop myself right into your brain and cheer you on as loud as I can. But since I can't, maybe start with your own Badass list. See if that helps.
With so much love and gratitude,
Am